Sarfaranga Desert Rally Begins in Skardu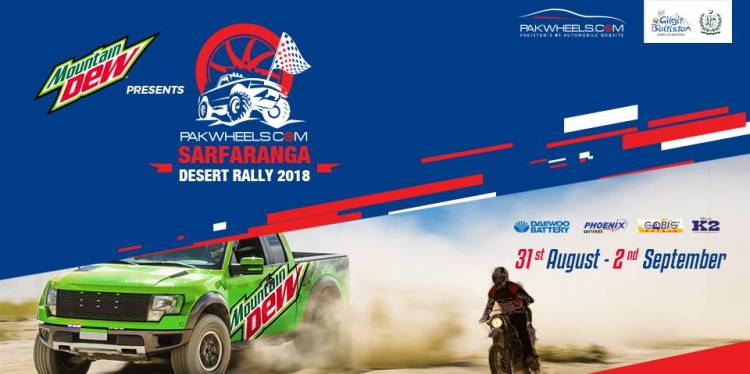 (Dear readers, Click here for 2019 Sarfaranga Desert Rally details)
PakWheels.com and Mountain Dew have collaborated with Government of Gilgit Baltistan to present the Sarfranga Desert Rally 2018.
Gilgit Baltistan is, perhaps, the most spectacular region of Pakistan in terms of its geography and scenic beauty. Here world's three mightiest mountain ranges: the Karakoram, the Hindukush and the Himalayas – meet. The whole of Gilgit Baltistan is like a paradise for mountaineers, trekkers and anglers. The region has a rich cultural heritage and variety of rare fauna and flora.
In the northern areas of Pakistan at an altitude of around 1000 feet, the sand dunes located in Sarfaranga village are a wonderful creation of Allah, at Skardu, Gilgit-Baltistan in Pakistan. These sand banks are also known as the cold desert with strong winds that shift the dunes, forming different shapes each time. This cold dessert is extended from Khaplu Valley to Nubra Ladakh and Shigar Skardu valley to Zanskar in India.
This desert holds a unique place in the hearts of travellers due to its high altitude and cold region. The shooting stars and the moving galaxy spread in the sky in cold nights of Sarfaranga. The Indus River beside crystal clear water reflects the image of colourful trees, enhancing the beauty of Sarfaranga village.
Arrival time for all the rally participants at Sarfaranga Dessert should not be later than Thursday evening, August 30th, 2018 latest by 4 PM.

Event Link: http://ow.ly/YRdO30lkANs