Least explored destinations in Gilgit Baltistan that should be on your bucket list!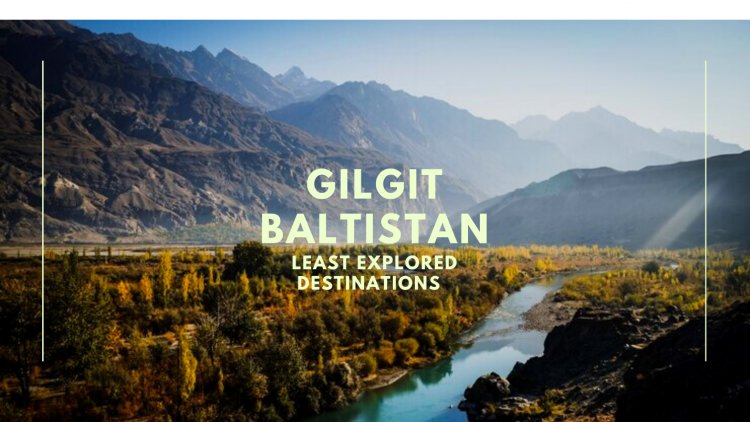 Gilgit Baltistan
Pakistan is an absolutely stunning country. A country that offers many attractions to tourists from all over the world. Northern areas of Pakistan with their scenic beauty, famous mountain peaks, turquoise-blue valleys and deserts filled with remnants of ancient civilizations have been tourist hotspots for years. So, one thing is for sure; Pakistan is not short of beautiful places to visit. Yet many picturesque areas in the country are still unexplored, especially if you navigate towards higher altitudes. Gilgit Baltistan is one such place. With its lush green fields and orchards, beautiful snow-capped mountains and clear waters it offers many sites to its visitors. But some of its places are still unexplored.
So, if you want to discover the diversity of life, tread where others haven't or simply leave behind the stresses of modern-day life, these unspoilt, undiscovered destinations are a good place to start!
Shigar Valley
Shigar valley is yet an underrated tourist destination which is considered the gateway to Karakoram Mountains. It is located 32 km from Sakardu and reaching it can be a little bit tough as it is in an solated region. However, it is particularly popular among trekkers. It is home to a magnificent cold desert, enchanting blue Blind Lake, Shigar Fort and Fong Khar which is a historic Ambrique Mosque. Apart from trekking, visitors can also enjoy the lush gardens and local delicacies. A few days in this picturesque valley will definitely refresh your mind and soul.
Gulmit Village
This small village in Upper Hunza is approximately 8200 feet above sea level. The village has a rich cultural heritage, where residents still live in traditional houses and wear traditional clothes and caps. It is perhaps one of the most breathtakingly beautiful yet underrated places in this region. From friendly villagers to green fields and orchis, this village is a gateway to many other enchanting places like Atabad Lake, the majestic Passu Cones and Gulkin Glacier. If you ever decide to visit this place, make sure to never miss their Cherry Blossom Festival.
Minapin Village
Minapin village is home to some of the kindest and most hospitable people in the region. It is one of the most beautiful places in the Nagar District. Minapin has been gaining popularity among local population but many people are still unaware of this hidden gem. With its scenic beauty and chilly weather, it is one of those places where you can just sit, sip your tea/coffee and enjoy the peaceful, serene environment. The village generates its own electricity through one of its small dams. You can also visit cherry and mulberry farms and enjoy the local delicacies.
Phander Valley
Also known as "Little Kashmir" the valley is home to beautiful Phander Lake. With its crystal-clear blue water, mesmerizing scenery, colorful flowers, wooden homes and peaceful, calm environment, it is one of the perfect tourist attractions in Pakistan. You can visit the place between July to August, if you don't want to lose a finger or two to frostbite. During this time, the trees of apricot, cherry and mulberry are in full bloom which adds to the beauty of this place. You can also spend time catching trout, if you get the fishing permit!
So next time, if you decide to visit Gilgit Baltistan add these natural wonders to your list because they might soon turn into tourist hotspots.