Estimated Renting Prices For Public Transport 2022-2023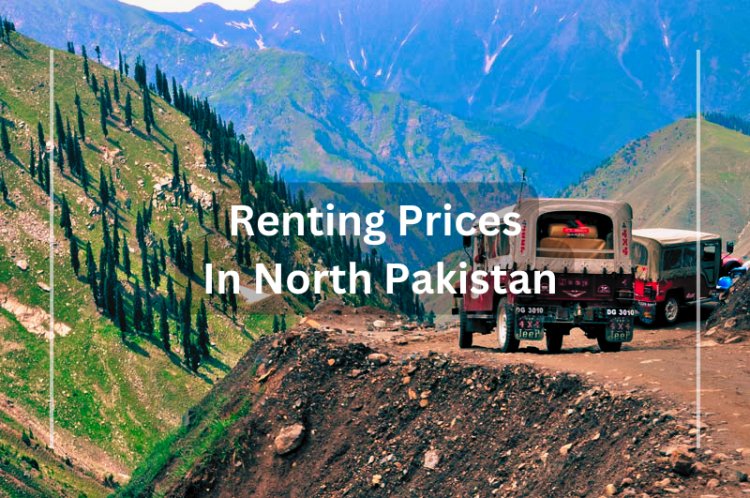 Jeeps for these locations should not be more than:
Naran to Lake Saif ul Malook: Rs. 3,500
Naran to Lalazar: Rs. 3,500
Naran to Lake Lulusar: Rs. 10,000
Naran to Babusar Pass: Rs. 15,000
Naran to Noori Top: Rs. 18,000
President Jeep Association Contact: 0331-9298443
NATCO (Northern Areas Transport Corporation)
(Government organization providing road transport service to the people of Northern Areas on subsidized rates and established road transport system in the Northern Areas.
AREA OF OPERATION ON NATIONAL AND INTERNATIONAL ROUTES:
Islamabad | Rawalpindi to Gilgit (516 KM)
Contact: 051-4864041 – 44
| | | |
| --- | --- | --- |
| TYPE OF VEHICLE | Timing | Fare |
| You Tong | 05:00 PM | Rs.3300 |
| Daewoo | 07:00 PM | Rs.2600 |
| Daewoo | 09:00 PM | Rs.2600 |
Islamabad | Rawalpindi to Chilas (470 KM)
Contact: 051-4864041 – 44
| | | |
| --- | --- | --- |
| TYPE OF VEHICLE | Timing | Fare |
| You Tong | 06:45 PM | Rs.2500 |
| Coaster | 06:45 PM | Rs.2000 |
| High Roof | 06:45 PM | Rs.2000 |
Islamabad | Rawalpindi to Ghakuck
Contact: 051-4864041 – 44
| | | |
| --- | --- | --- |
| TYPE OF VEHICLE | Timing | Fare |
| Hino | 03:00 PM | Rs.3000 |
Islamabad | Rawalpindi to Hunza (347 KM)
Contact: 051-4864041 – 44
| | | |
| --- | --- | --- |
| TYPE OF VEHICLE | Timing | Fare |
| Hino | 04:00 PM | Rs.3000 |
| You Tong | 04:00 PM | Rs.3500 |
| You Tong | 09:00 PM | Rs.3500 |
Islamabad | Rawalpindi to Skardu (638 KM)
Contact: 051-4864041 – 44
| | | |
| --- | --- | --- |
| TYPE OF VEHICLE | Timing | Fare |
| Hino | 02:00 PM | Rs.3200 |
| Normal | 02:00 PM | Rs.2570 |
| You Tong | 04:30 PM | Rs.4000 |
Islamabad | Rawalpindi to Karachi (1398 KM)
Contact: 051-4864041 – 44
| | | |
| --- | --- | --- |
| TYPE OF VEHICLE | Timing | Fare |
| Daewoo | 01:00 PM | Rs.2600 |
Islamabad | Rawalpindi to Astore (548 KM)
Contact: 051-4864041 – 44
| | | |
| --- | --- | --- |
| TYPE OF VEHICLE | Timing | Fare |
| High Roof | 04:45 PM | Rs.2500 |
| Coaster | 04:45 PM | Rs.2500 |
| Hino | 04:45 PM | Rs.2700 |
Islamabad | Rawalpindi to Khaplu (742 KM)
Contact: 051-4864041 – 44
| | | |
| --- | --- | --- |
| TYPE OF VEHICLE | Timing | Fare |
| Coaster | 01:30 PM | Rs.3500 |
| Hino | 01:30 PM | Rs.3700 |
Gilgit to Islamabad | Rawalpindi (516 KM)
Contact: 05811-920435
| | | |
| --- | --- | --- |
| TYPE OF VEHICLE | Timing | Fare |
| Daewoo | 01:00 PM | Rs.3300 |
| Daewoo | 02:00 PM | Rs.3300 |
| Daewoo | 03:00 PM | Rs.3300 |
| Daewoo | 04:00 PM | Rs.3300 |
| You Tong | 05:00 PM | Rs.4000 |
Karachi to Islamabad | Rawalpindi (1398 KM)
Contact: 021-32782005
| | | |
| --- | --- | --- |
| TYPE OF VEHICLE | Timing | Fare |
| Daewoo | 09:00 AM | Rs.2600 |
Hunza to Islamabad | Rawalpindi (347 KM)
Contact: 05813-920111
| | | |
| --- | --- | --- |
| TYPE OF VEHICLE | Timing | Fare |
| Normal | 12:00 PM | Rs.2500 |
| Hino | 12:00 PM | Rs.3800 |
| You Tong | 01:00 PM | Rs.4500 |
Hunza to Karachi (1471 KM)
Contact: 05813-920111
| | | |
| --- | --- | --- |
| TYPE OF VEHICLE | Timing | Fare |
| Daewoo | 10:00 AM | Rs.10500 |
| You Tong | 11:00 AM | Rs.11000 |
Ghakuck to Islamabad | Rawalpindi (516 KM)
| | | |
| --- | --- | --- |
| TYPE OF VEHICLE | Timing | Fare |
| Hino | 08:00 AM | Rs.3500 |
| Normal | 08:10 AM | Rs.2310 |
Skardu to Islamabad | Rawalpindi (638 KM)
Contact: 05815-920289, 452188
| | | |
| --- | --- | --- |
| TYPE OF VEHICLE | Timing | Fare |
| You Tong | 02:30 PM | Rs.5000 |
| Hino | 04:00 PM | Rs.4000 |
| Normal | 04:00 PM | Rs.2570 |
Islamabad | Rawalpindi to Darel (318 KM)
Contact: 051-4864041 – 44
| | | |
| --- | --- | --- |
| TYPE OF VEHICLE | Timing | Fare |
| High Roof | 07:15 PM | Rs.1800 |
| Coaster | 07:15 PM | Rs.1800 |
Islamabad | Rawalpindi to Tangir (540 KM)
Contact: 051-4864041 – 44
| | | |
| --- | --- | --- |
| TYPE OF VEHICLE | Timing | Fare |
| High Roof | 07:30 PM | Rs.1800 |
| Coaster | 07:30 PM | Rs.1800 |
More Contacts
Tangir valley: 05812-460118
Ghizar valley: 05814-920413, 920377
Astore: 05817-450215
Sust: 05813-928409