Weather Alert: Westerly Wave to Bring Rain and Snow to Pakistan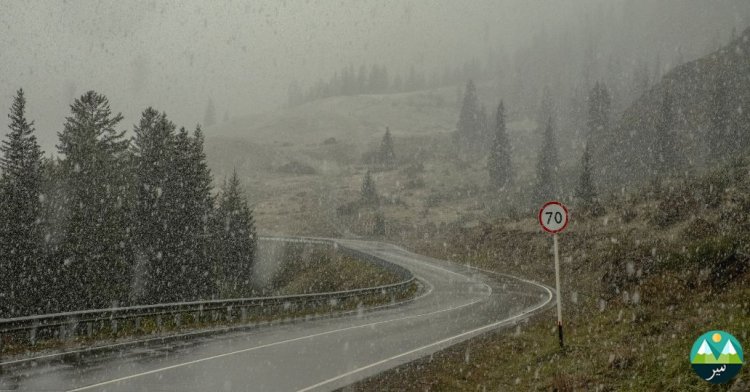 In a recent weather update, the Met Office has informed that a shallow westerly wave is currently affecting the western parts of Pakistan and is expected to extend its grip to the upper regions by the evening of November 8, 2023. This weather system is projected to persist in the northern areas until the afternoon of November 10, 2023.
Under the influence of this weather pattern, various regions across Pakistan are expected to witness a range of weather conditions, including light to moderate rain, thunderstorms, and even snowfall in some areas. Let's delve into the details of this weather forecast for different parts of the country.
Beginning on the evening of November 6, 2023, and continuing into November 7, a series of weather phenomena are anticipated in the western regions of Pakistan. Cities and districts such as Quetta, Kharan, Harnai, Chaman, Ziarat, Qilla Abdullah, Qillah Saif Ullah, Loralai, Pishin, Zhob, Musa Khel, Sibbi, Mastung, Kalat, Noshki, and Chaghi are likely to experience light to moderate rain, thunderstorms, and even the possibility of hailstorms in isolated areas.
On the evening of November 7, these weather conditions are expected to extend to Dera Ismail Khan, Dera Ghazi Khan, Layyah, Bhakkar, Sargodha, Mianwali, Khushab, Islamabad, and the Pothohar region. Residents and travelers in these areas should be prepared for potential disruptions caused by the adverse weather.
As the shallow westerly wave progresses, it is poised to bring further changes in the weather pattern. On the evening of November 8 and through November 9, various cities and districts across Pakistan are expected to witness more rain, thunderstorms, and even hailstorms in isolated places. The affected regions include Chitral, Dir, Swat, Shangla, Buner, Kohistan, Mansehra, Abbottabad, Haripur, Swabi, Mardan, Nowshera, Peshawar, Kohat, Kurram, Bannu, Lakki Marwat, Waziristan, Bhakkar, Mianwali, Sargodha, Khushab, Murree, Galliyat, Islamabad, Rawalpindi, Attock, Chakwal, Jhelum, Mandi Bahauddin, Gujranwala, Gujrat, Sialkot, Narowal, Lahore, Faisalabad, Jhang, Sheikhupura, and Hafizabad.
These weather conditions may lead to disruptions in daily activities and travel plans, so residents and travelers in these areas are advised to stay updated and take necessary precautions.
In addition to rain and thunderstorms, the weather system is expected to bring snowfall to the high mountains in Kashmir, including Neelum valley, Muzaffarabad, Poonch, Hattian, Bagh, Haveli, Sudhanoti, Kotli, Bhimber, Mirpur, and Gilgit Baltistan, covering Diamir, Astore, Ghizer, Skardu, Hunza, Gilgit, Ghanche, and Shigar. This snowfall is anticipated from the evening of November 8, 2023, until the afternoon of November 10, 2023.
Travelers planning to visit these picturesque regions during this period should be aware of the weather conditions and the potential challenges posed by snowfall.
Apart from rain, thunderstorms, and snowfall, fog and smog are expected to develop in patches across the plains of Punjab and Khyber Pakhtunkhwa, particularly during late night and early morning hours. These conditions could reduce visibility and affect daily commutes, so residents are advised to exercise caution when traveling during these times.
Impacts and Advisories
The shallow westerly wave is likely to cause a drop in day temperatures by 2 to 3 degrees Celsius during its duration. Farmers in barani areas are advised to manage their crop activities accordingly to mitigate any potential damage. Tourists and travelers visiting northern areas are urged to remain cautious and well-prepared for the changing weather conditions during this period.
In conclusion, Pakistan is set to experience a series of weather changes in the coming days, with a shallow westerly wave bringing rain, thunderstorms, and snowfall to various regions. Residents and travelers are advised to stay updated with the latest weather forecasts and take appropriate measures to ensure their safety and well-being.