German Cyclist Explores Karachi, adding Pakistan to her Travel List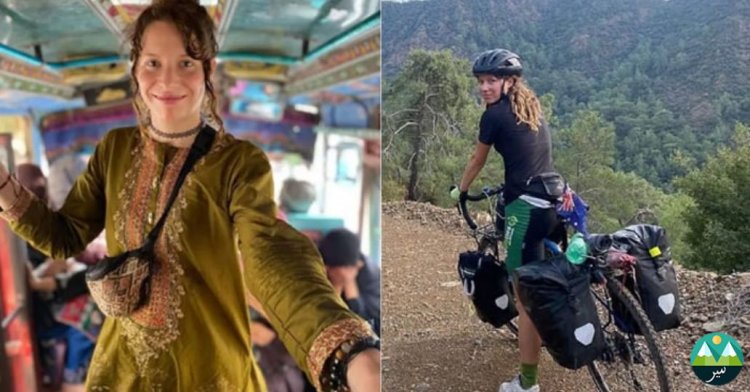 German cyclist, Madeline Hofmann, started the thrilling adventure that took her from Sydney, Australia, to the lively city of Karachi in Pakistan. During her time in Karachi, Madeline was captivated by the city's vibrant atmosphere, which beautifully merged historical charm with modern development.
Madeline is immersed in the world of traditional Pakistani cuisine and its local culture. From savoring mouthwatering Aloo Paratha to indulging in the delightful combination of Halwa Puri for breakfast, she embraced the flavors and aromas of Pakistan.
Madeline found the people of Karachi to be incredibly warm and hospitable. According to her, their genuine kindness added to her enjoyment of the city. The locals' welcoming nature left a lasting impression on her, making her time in Karachi all the more memorable.
At 33, Madeline began her remarkable bicycle journey in August of last year, driven by a desire to discover her Turkish roots. Unaware of her father's Turkish heritage until she turned 26, she embarked on a life-changing expedition.
Born and raised in Germany, Madeline relocated to Sydney a decade ago. Within a mere four and a half months, she traversed through 12 countries, arriving in Turkey in January of this year. It was there that she finally met her father and paternal family, marking a significant milestone in her journey.
Continuing her adventure through the Middle East, Madeline explored countries like Jordan, Saudi Arabia, and the United Arab Emirates. Recently, she flew from Dubai to Karachi, with her trusty bicycle in tow, adding Pakistan as the 18th country on her awe-inspiring travel list.
Setting her sights on further exploration, the intrepid German cyclist embarked on a 1,200-kilometer ride from Karachi to Lahore. Her next goal is to cross the Wagah Border into India, where she plans to continue her journey through Nepal, conquering the challenging Annapurna Circuit amidst the majestic mountains.
Madeline Hofmann's inspiring travels serve as a testament to the beauty of diverse cultures and the warmth of people from around the globe. From Karachi to Lahore and beyond, her incredible journey embodies the spirit of adventure, cultural immersion, and personal discovery.