Bus Crash near Kallar Kahar: 15 Kills, over 60 Injures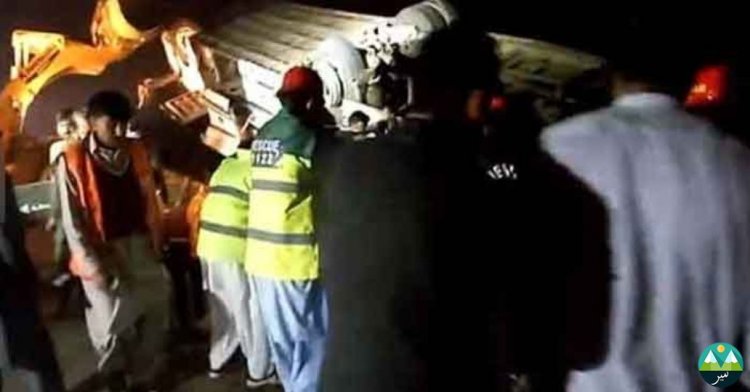 At least 15 people were killed and over 60 injured when a bus traveling from Islamabad to Lahore overturned on Motorway II near Kallar Kahar late Sunday night.
The bus carrying a wedding party from Islamabad to Lahore lost control due to brake failure and jumped onto the other track, where it collided with three vehicles coming from the opposite side.
According to Chakwal Deputy Commissioner Qurat-ul-Ain, the injured passengers around 64, including women and children, were instantly shifted to a hospital.
Prime Minister Shehbaz Sharif expressed grief over the loss of life in the bus accident and directed the concerned authorities to provide the best medical treatment to injured passengers.
Moreover, National Assembly Speaker Raja Pervaiz Ashraf and Deputy Speaker Zahid Akram Durrani also expressed their deep sorrow over the deaths.
اسپیکر قومی اسمبلی راجہ پرویز اشرف اور ڈپٹی اسپیکر زاہد اکرم درانی کا کلر کہار میں بس کو پیش آنے والے المناک حادثے پر گہرے دکھ اور افسوس کا اظہار۔

حادثے کے نتیجے میں درجن سے زائد ہلاکتوں اور پچاس سے زائد زخمی ہونے کی اطلاعات انتہائی تکلیف دہ ہیں_ اسپیکر اور ڈپٹی اسپیکر pic.twitter.com/JgkwIjCVlf

— National Assembly of ???????? (@NAofPakistan) February 19, 2023
اسپیکر اور ڈپٹی اسپیکر کا زخمیوں کے علاج کے لیے بہترین سہولیات مہیا کرنے کی ہدایت

اسپیکر اور ڈپٹی اسپیکر کی جاں بحق ہونے والوں کے درجات کی بلندی اور زخمیوں کی جلد صحت یابی کے لئے دعا ۔

— National Assembly of ???????? (@NAofPakistan) February 19, 2023