Pakistan's JF-17 Thunder Takes Center Stage at Dubai Air Show 2023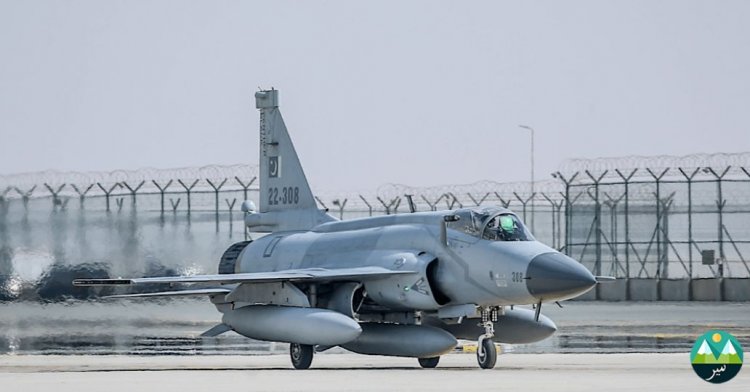 In a historic moment for Pakistan's aviation sector, the Pakistan Air Force (PAF) is showcasing its cutting-edge JF-17 Thunder Block-3 fighter jets and the versatile Super Mushshak aircraft at the prestigious Dubai Air Show 2023. This marks the first international appearance of the JF-17 Thunder Block-3, underlining Pakistan's commitment to innovation and excellence in aviation.
Unveiling Excellence in Aerial Warfare
The Dubai Air Show 2023, which commenced yesterday and runs until November 17, has attracted the participation of 140 countries, with Pakistan making a significant impact on the global stage.
In a statement released on Monday, the PAF highlighted the JF-17 Thunder Block-3 as the epitome of modern aerial warfare technology. The fighter jet is equipped with state-of-the-art avionics, enhanced weaponry, and advanced electronic warfare systems. The JF-17 Block 3 boasts superior maneuverability, extended range, and enhanced combat capabilities, positioning it at the forefront of technological advancements in the aviation industry.
Super Mushshak: A Trusted Training Companion
Accompanying the JF-17 is the Super Mushshak aircraft, renowned for its exceptional training capabilities and versatility. The PAF emphasized that the Super Mushshak has played a crucial role in nurturing the skills of countless PAF pilots. Internationally recognized for its remarkable performance and adaptability, this trainer aircraft has become a symbol of trust in aviation training.
Dubai Airshow: A Biennial Showcase of Innovation
The Dubai Airshow, held biennially, serves as a premier platform for aviation enthusiasts, defense professionals, and industry leaders worldwide. It provides a unique opportunity to witness cutting-edge technologies and fosters global collaborations in the dynamic field of aviation.
Commitment to Innovation and Global Collaboration
Pakistan's participation in the Dubai Air Show 2023 signifies a commitment to innovation, excellence, and global collaboration in the aviation sector. The JF-17 Thunder Block-3 and the Super Mushshak aircraft stand as testaments to Pakistan's advancements in aerial technology and its dedication to training skilled aviation professionals.
Conclusion
As the Dubai Air Show 2023 unfolds, the presence of Pakistan's JF-17 Thunder Block-3 and Super Mushshak aircraft steals the spotlight, showcasing the nation's prowess in aviation technology and training. This international debut underscores Pakistan's dedication to pushing the boundaries of innovation in aerial warfare.